Next generation ESG monitoring
The ESG imperative
Employees, shareholders, asset allocators, consumers and regulators are demanding that organisations monitor and manage critical ESG factors.
Thematic monitoring
Our ESG coverage has been constructed taking into account the themes and key issues covered by recognised global ratings agencies and experts.
Service and technology
A unique combination of human intelligence and machine learning helps you to effortlessly follow emerging ESG risks and opportunities.
An unprecedented era
Whatever industry vertical you operate in, find out how our ESG monitoring service can help your organisation navigate an unprecedented era of opportunity, and risk.
Find out more
The Responsible Banker
UK Finance, in association with Curation, has recently launched a new fortnightly email briefing: The Responsible Banker.
Designed to be a one-stop shop for time-pressured CEOs and senior executives, the briefing provides members with valuable and topical coverage and analysis of sustainability and environmental issues and their potential impact on the industry, as well as value solutions.
You can find out more on the UK Finance website.
Visit UK Finance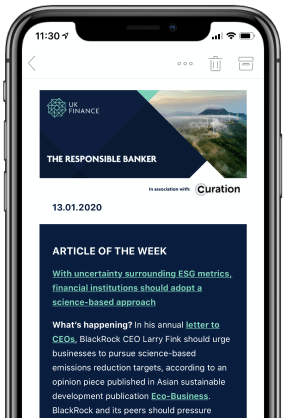 "As environmental concerns reach a tipping point, our goal is to set the highest possible standards of responsible finance and do all we can to smooth the path of transition to low carbon economics."
Stephen Jones
CEO, UK Finance
For UK Finance members
UK Finance members can try the Curation ESG Tracker, our online platform which monitors key ESG themes and issues covered by recognised global ratings agencies, experts and the UN Sustainable Development Goals.
Our services by sector
Corporates
Just having a policy is not good enough: organisations need a process for identifying and monitoring risk.
Asset Managers
Follow emerging sources of alpha whilst demonstrating your ESG credentials.
Banks
Track the shifting landscape of regulation, risk, and sustainability.
Energy
Follow the newest technological developments in the transition to a low carbon future.
Insurance & Underwriting
Discover new insurable risks impacting your clients' businesses through our thematic monitoring.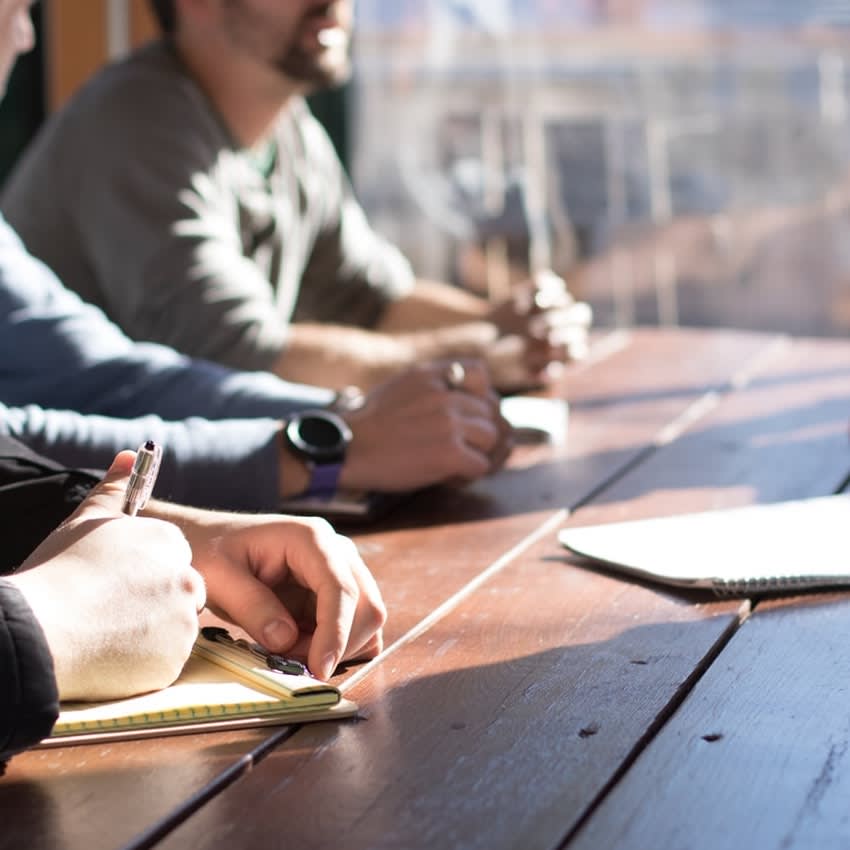 Customer Intelligence
Identify what matters to your existing and prospective clients through our client monitoring service.
Request a demo
Whatever sector you operate in, find out first-hand how our next generation monitoring service can help your organisation.
Next generation intelligence and the team to deliver it.
"Global growth and sustainability are on a collision course — these two megatrends have already begun to rock the corporate and investment world to its foundations."
Nick Finegold
Founder, Curation
About us
Sign up to receive our free ESG briefing
Top emerging risks and opportunities, selected by our expert panel and sent every Wednesday and Saturday.
Trusted by
Our experience of working with the team at Curation has been nothing but positive. They're helpful, flexible, knowledgeable and have developed a product for us that can add real value to our business and enable Ascot to further differentiate ourselves in a competitive market.
Martin Callahan
Director of Market Intelligence, Ascot Underwriting.
I receive news alerts from a variety of traditional news sources every morning but the Curation alerts work best for emerging risk factors. In a world drowning in information, I value knowledge and wisdom.
Tom Glocer
Former CEO, Thomson Reuters. Director, Morgan Stanley.
The curation platform is unlike anything I have seen in the ESG space. It's a unique combination of service and technology dedicated to helping corporates effortlessly map emerging environmental risk and opportunity.
Mark Lewis
Global Head of Sustainability Research, BNP Paribas Asset Management
Our partners
UK Finance is the collective voice for the banking and finance industry. Representing more than 250 firms across the industry, we act to enhance competitiveness, support customers and facilitate innovation. We work for and on behalf of our members to promote a safe, transparent and innovative banking and finance industry.
The Nucleus195 platform provides access to global research coverage and exceptionally strong emerging and frontier market offerings. With insightful research from major brokers, large independent houses, and research boutiques, Nucleus195 delivers the uncommon ideas and insights that investors need.
Independent Research Forum enables Professional Investors to access a wide range of high-quality Independent Research Providers, including specialist Data Providers. IRF provides IRPs with introductions and marketing opportunities through an extensive network of Investors across the world.
AlphaWeek is a digital magazine that produces content which covers the global alternative investment industry. It is published by The Sortino Group Ltd. AlphaWeek's proprietary editorial content covers a wide range of topics, including commentary from industry experts to help alternative asset managers understand trends relevant to them.

Curation Corporation Limited
Here East, Press Centre
Queen Elizabeth Olympic Park
London E20 3BS

+44 20 3870 0640

info@curationcorp.com